Orlando Magic Supports Blessings in a Backpack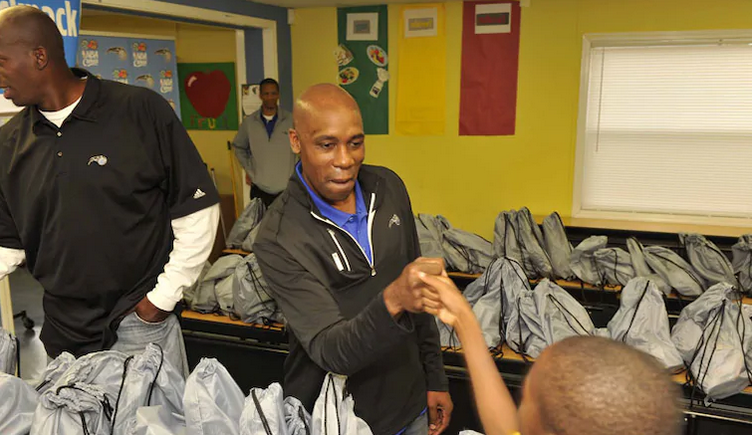 By playing and coaching basketball nearly all of his life, Jacque Vaughn understands the importance of a healthy diet.
Good nutrition, in fact, played a key role in him lasting 12 years in the NBA as a player and he admits it remains essential as a head coach.
Therefore, helping children learn good nutritional habits and routines on Thursday as part of the Orlando Magic's Blessings in a Backpack initiative meant a lot to Vaughn.
The Magic coach along with several other volunteers, including Community Ambassadors Nick Anderson and Bo Outlaw, stuffed backpacks with healthy snacks such as cereal, fruit and soup for students at the Nap Ford Community School. The idea is for kids to have enough food to last them throughout the weekend.
"The ability to have nutrition, basic needs over the weekend, there's a lack of it and I'm glad we have a partnership where we can help provide some nutrition and food to those in need," Vaughn said.
There are 11 million children in the United States at risk of hunger on the weekends. As a result, it's imperative for a program like Blessings in a Backpack to continue assisting in hopes of diminishing the problem. Not only does hunger result in severe health issues but it also can negatively impact test scores and reading skills in school.
"There's a relationship that's built to the way your mind works, the way your body responds and having some basic essentials and needs to nourish yourself to push you through the day so you can accept learning, those are necessities," Vaughn said.
The Magic have been working with the program since 2011. Prior to attending Nap Ford Community School, the Magic partnered with Kaley Elementary and Lake Como Elementary. The Blessings program at Nap Ford Community School is made possible through the generosity of Vaughn with the Magic staff volunteering their time to stuff backpacks each week.