Fabletics Announces Second Limited-Edition Mom-and-Me Collection Supports Blessings in a Backpack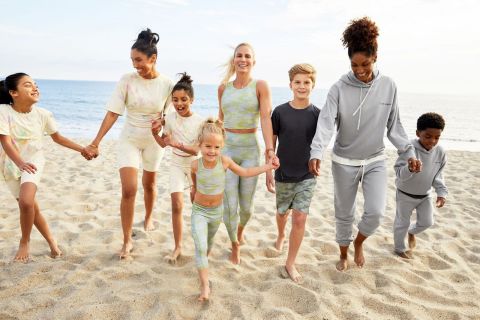 Now through May 31, 100% of net proceeds (up to $50,000) from the children's clothing will be donated to Blessings in a Backpack, a non-profit organization that provides meal kits to kids across the country
Fabletics announced the return of its best-selling mom-and-me collection, envisioned by Ginger Ressler. Designed for moms to match with their daughters and sons, the five-outfit capsule launches just in time for Mother's Day and introduces styles for boys and unisex pieces for the first time ever. Featuring made-to-move silhouettes in performance-driven fabrics, the feel-good collection inspires the entire family to press play on staying active, embracing the outdoors, and having fun together.
"Last year's collection sold out in mere days. We heard the demand for more "mom-and-me" styles loud and clear so we've brought the collection back bigger and better with something for everyone," Ressler says. "This capsule was inspired by our family and made for yours!"
Available for toddlers, children, and adults, the collection features core Fabletics styles set in new colors, prints, and textures—including the buttery-soft Oasis Short, highly versatile Motion365® Legging, and workout-ready Fundamental Short. The spring-inspired collection includes fresh, fun takes on camo and tie-dye, some of Ressler's favorite prints. "You'll find uplifting embroidered messages throughout the collection to motivate you and your little ones to live life to the fullest!" says Ressler.
Fabletics also continues its partnership with Blessings in a Backpack, doubling last year's donation to provide meals to kids. 100% of net proceeds (up to $50,000) from the children's clothing will go directly to Blessings in a Backpack's COVID-19 program from April 15-May 31, helping children who rely on school lunches to safely access food during school closures.
Offered in sizes 2T-XL for children and sizes XS-4X for adults, the limited-edition capsule collection will be available on fabletics.com starting April 15, 2021.