Cigna Builds Blessings in a Backpack in Orlando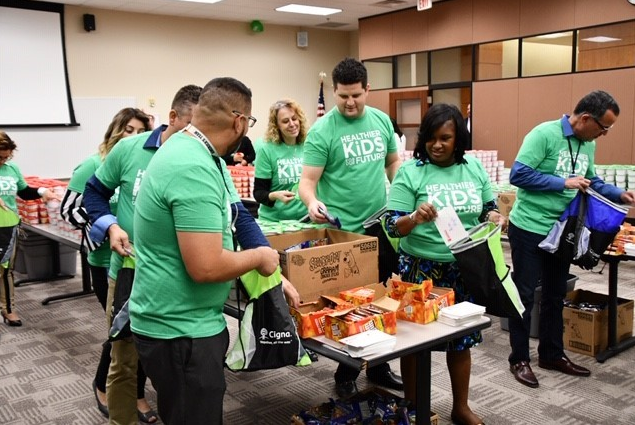 Story from January 18, 2019.
Cigna and Express Scripts employees in Orlando celebrated the combination of the two companies by filling 1,500 backpacks with food for children at the Metrowest and Westpointe Elementary Schools in Orlando.
The event marked the beginning of a new global $25 million program, Healthier Kids for Our Future, and demonstrated the newly combined company's commitment to communities. The local event was part of a nationwide Cigna initiative that is the largest-ever in Blessings in a Backpack's 10-Year history.
Healthier Kids for Our Future is part of Cigna's $200 million investment to support local communities and improve societal health announced at the close of the company's transaction with Express Scripts in December 2018.
"Cigna's goal is to set a course for children to live healthy lives. Children who go hungry are more likely to be in poor physical health, struggle with mental well-being and suffer from preventable chronic conditions," said David Cordani, president and chief executive officer, Cigna. "At Cigna, we are focused on improving peace of mind for the people we serve, and to do this, we need to serve the communities where they live, work and play. Our goal is to address food insecurity for children in order to help build healthier communities in the future."
"We are thrilled to expand our work together and help feed the many children who go hungry when they are not in school. Everything we do to support the health and well-being of children makes a difference and gives these students a path to a brighter future," said Brooke Wiseman, chief executive officer, Blessings in Backpack.
Click here to learn more about Cigna's Healthier Kids for Our Future initiative.